Meetings and companies presentations
Meetings and companies presentations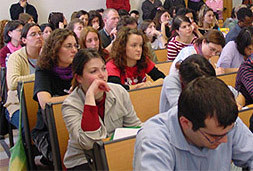 CAREER GUIDANCE COURSE
The course contains three modules, and provides guidance on strategies and methods to search for a job.
Module 1 – Channels and tools for job searching. Presentation of key elements of career choice (personality, motivation, interests and work values) and the channels and tools for a job search (CV, covering letter, job and internship listings, internet and work)
Module 2 - Recruitment. Methodologies used in the recruitment process and the dynamics of individual and group interviews.
Module 3 – Effective communication in the interview situation. A trainer and an HR recruitment operative provide advice on techniques to use to present yourself well during your job search.
PRESENTATION OF PROFESSIONAL ROLES AND COMPANY FUNCTIONS
The aim of the meetings is to explain what knowledge and personal characteristics are required to cover the business roles and enter the professions.
COMPANY PRESENTATIONS
When holding presentations on campus companies give a description of the company, its organisational structure and the corporate culture, and outline what opportunities for employment there are. Companies have the opportunity of direct contact with Università Cattolica students and graduates so that they can find resources with skills matching their recruiting needs.
RECRUITING DAYS HELD AT THE UNIVERSITY
Instead of a company presentation, or as a follow-up to a company presentation, a recruiting day is programmed at the Career Service offices in Università Cattolica. The event is promoted on the university website and when applications have been recieved companies can invite suitable applicants for interview (either individual interviews or group sessions).
TESTIMONIALS AND PRESENTATIONS OF SPECIFIC CASES IN UNIVERSITY CLASSES
These activities are presented during classes and support the topics being covered by academic staff in their syllabus. Testimonials will usually concern specific cases and/or matters related to professional skills and abilities in the various sectors of a business. This approach creates a link between academic life and business life: it offers students the opportunity to combine theoretical knowledge with experience and is an ideal way of learning about companies of interest and how they are organised, which can function as a benchmark when planning their academic career.
SIMULATION OF RECRUITMENT PROCESS
By working with specialists in personnel recruitment, students can enhance their CV and get a taste of the most common techniques used by the companies during the recruitment process: individual interviews and group assessment sessions. Through role play, the objective is to provide career guidance to undergraduates from all faculties of Università Cattolica who wish to use the service.